Choosing to pursue an online MBA degree is the ideal way to advance in your career while continuing to manage other responsibilities outside of an education. Obtaining an MBA is becoming highly useful and beneficial in the business world. There are many high-quality universities that offer online MBA programs, but it's extrememely important that prospective students find the college that best suits their needs.
Online programs deliver the same quality of teaching through a different platform. If you are looking to advance within a current job or are seeking higher business roles and positions, an online MBA is a promising option to achieve those goals. When looking into programs be attentive of how long the program will take, requirements, specializations, and other factors to ensure that the program is right for you.
Online MBA programs contain a unique, individualized element that allows students to customize schedules, goals and other personal preferences. Additional education online is highly recommended for independent learners who desire to set their own pace for course completion.
Here are the Best Online MBA Programs
1. Mississippi State University
MSU has designed its curriculum for its MBA program to be useful and relevant to today's concepts. The program emphasizes management, marketing, finance, economics, and quantitative analysis. The online MBA requires 27 hours of core MBA classes and an additional 3 hours of electives of the student's choice.
Location: Starkville, Mississippi

Estimated Tuition: $11,010

Credit Hours: 30
2. East Carolina University
East Carolina University creates a customized experience to fit the needs of individual students. The MBA program's purpose is to help accelerate a student's career. ECU is known for its flexibility and student assistance to help students get into the right classes that they need for programs. An MBA degree will guarantee valuable knowledge in theory and practice of business management.
Location: Greenville, North Carolina

Estimated Tuition: $13,500

Credit Hours: 54
3. Tennessee Technological University
The MBA program offered through Tennessee Technological University allows students from all different academic backgrounds to pursue without disrupting their career path. Both full time and part time options are available with many courses to choose from that may interest a student. Through methods, simulations, and research projects students will feel prepared to make larger advances in their career.
Location: Cookeville, Tennessee

Estimated Tuition: $15,300

Credit Hours: 30
4. Ball State University
Ball State University is student driven, motivated and goal oriented. The MBA program offered through The Miller College of Business is determined to help students reach their full potential. Ball State's faculty is highly qualified and noted among US News World and Report. Students can begin the program in fall, spring, and summer either part of full time. The University is also known for helping its students prepare for and land jobs
Location: Muncie, Indiana

Estimated Tuition: $17,700

Credit Hours: 30
5. Arkansas State University
Arkansas State University's online MBA is known for its high-quality education designed for students with varied academic and professional backgrounds. The courses are both comprehensive and challenging to test students to the best of their abilities and push them to apply the skills that they have learned. Students can also choose supply chain management or finance as a concentration within the degree.
Location: Jonesboro, Arkansas

Estimated Tuition: $20,130

Credit Hours: 33
6. Union University
As one of the top regional schools in the southeast, Union University promotes its solid ethics and Christ centered learning. Union's MBA program is flexible, valuable, and versatile. The program can be completed in 12,18, or 24 months depending on different student's schedules. The program focuses on positive business influences and organizational decision making.
Location: Jackson, Tennessee

Estimated Tuition: $20,700

Credit Hours: 36
7. Ohio Dominican University
Ohio Dominican University offers a fully online MBA degree with an emphasis in ethical leadership and strategic agility. The online format allows students to take as many or as little classes as need from any location at any time. ODU is passionate about helping its students succeed in leadership positions in a variety of different fields and agencies.
Location: Columbus, Ohio

Estimated Tuition: $21,600

Credit Hours: 36
8. Asbury University
Asbury University provides online education to many adults wanting to continue their education. The University is made up four schools; arts and sciences, education, communication, and the school of graduate professional studies. Asbury provides a fully online MBA program that is known for its affordability, academic prestige, and its flexibility. The online portal of AU encourages completion at your own pace. Through the MBA program, students will be able to perform managerial competency through skills such as critical thinking and business organization and communication.   
Location: Wilmore, Kentucky

Estimated Tuition: $21,996

Credit Hours: 36
9. Hope International University
As private Christian University servicing over 2,000, Hope International University offers many great programs including a fully online MBA degree. Five concentrations are available for students to choose from which include marketing management, nonprofit management, international development, general management, and business entrepreneurship. For those looking to finish quickly, HIU offers accelerated options.
Location: Fullerton, California

Estimated Tuition: $23,100

Credit Hours: 42
10. University of Massachusetts
The University of Massachusetts has one of the most prestigious online MBA programs, that has proven to be successful for many students. The Isenberg School of Management offers a dual degree track plan for those students who are interested in earning multiple degrees at the same time. The program also offers specific concentrations to explore as well. Full time and part time formats are put in place for the needs of students to go at an accelerated or slower pace.
Location: Amherst, Massachusetts

Estimated Tuition: $35,100

Credit Hours: 39
11. James Madison University
James Madison University offers one of the top online MBA programs in cyber security. The education provided by JMU allows students to gain positions as business leaders. Cybersecurity is a top concern for the government and other organizations, thus providing many job opportunities within the field. James Madison is also known for its excellent student engagement and high-quality academics throughout all programs.
Location: Harrisonburg, Virginia

Estimated Tuition: $37,800

Credit Hours: 42
12. Lehigh University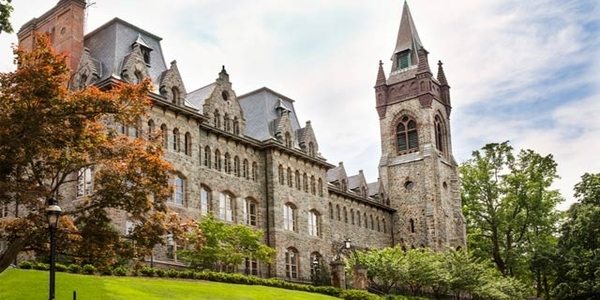 With a history of success, Lehigh University's MBA program offers business education that is global, environmentally, and economically conscious. Business is constantly changing, and MBA program through Lehigh provides experiences that value constant change of the business world. Lehigh University produces dynamic leaders who think critically and understand business concepts with an ethical and social mindset.
Location: Bethlehem, Pennsylvania

Estimated Tuition: $38,700

Credit Hours: 36
13. Louisiana State University
The LSU online MBA qualifies students for leadership positions, corporate world, business ventures and more. The program strengthens students awareness of the business world through courses including finance, and information systems. The MBA can be completed in as little as 18 months.
Location: Baton Rouge, Louisiana

Estimated Tuition: $ 46,620

Credit Hours: 42
14. North Carolina State University
NC State University offers a professional online MBA program that can be completed full time. Students have the luxury of having a flexible time table allowing students up to six years to complete the program and as few as 21 months if desired. This accredited international program is ranked #15 by US News and World Report for best online MBA program. NC State uses technology to its full benefit for online students, providing constant communication and feedback with students. The program is available to begin in either spring or fall semester depending on what best fits a student's needs.
Location: Raleigh, North Carolina

Estimated Tuition: $53,685

Credit Hours: 40
15. Arizona State University
The W.P Carey School of Business at Arizona State offers an MBA program that is known for developing leaders for today's business world. Accounting, statistics, economics, marketing, and more are included as focus points throughout the program. ASU is one of the most prestigious online communities ranking number 5 for best online MBA program by US News World and Report. Approximately 88% of ASU graduates receive job offers within 90 days.
Location: Tempe, Arizona

Estimated Tuition: $59,584

Credit Hours: 49
16. Temple University
Temple University provides a competitive MBA program which includes collaborative curriculum, excellent student services, diverse learning community, and support for those who are aspiring to be business professionals. Within the Fox School of Business, there are plenty of events and opportunities for students to display and gain more knowledge of the business world.
The MBA program consists of 48 credits and can be completed in as little as 20 months.
Location: Philadelphia, Pennsylvania

Estimated Tuition: $59,760

Credit Hours: 48
17. University of Dayton
The University of Dayton, a Catholic research university services an online community of students looking to further their education. Live online classes, multimedia coursework, and course immersions create a valuable learning experience. The program can be completed in as little as 18 months, giving students the opportunity to earn a degree quickly and move forward in a career or organization and put skills learned to practice.  
Location: Dayton, Ohio

Estimated Tuition: $60,000

Credit Hours: 48
18. University of Virginia
The University of Virginia, Darden School of Business, promotes active learning for its online learners. With real life business situations, University of Virginia challenges it students to think critically through difficult scenarios. A diverse group of students is enrolled both in person and online giving students the opportunity to learn from others with different backgrounds and experiences. Many graduate students have ventured into the business world and have inspired change and innovation by using their skills they developed while enrolled in the program.
Location: Charlottesville, Virginia

Estimated Tuition: $62,800

Credit Hours: 40
19. Villanova University
Villanova University provides a unique network for its business students. Its active alumni program excels in career growth and outreach as well as collaborates with graduate students to help others succeed. The MBA program is grounded in technology, ethics, problem-solving all through a flexible online platform. The online degree is the same curriculum taught by the same faculty which includes 21 courses over six semesters.
Location: Villanova, Pennsylvania

Estimated Tuition: $64,800

Credit Hours: 48
20. Indiana University
The MBA program offered by Indiana University focuses on a wide range of business concepts such as development, law and ethics, marketing, economics, and more. While there is no concentration focuses available, students are given the opportunity to choose many electives that interest them and that count towards their degree. Some courses are in partnerships with other top business schools from around the world, which provides students with networking opportunities to make global connections in the future.
Location: Bloomington, Indiana

Estimated Tuition: $66,000

Credit Hours: 51
21. Babson College
Through flexible curriculum options, Babson College offers diverse business related programs. Those who pursue completion of an MBA typically enroll as part time and finish within 21 months. While focusing on business ventures, Babson also highly encourages entrepreneurship. By creating a strong global mindset by increasing social, cultural, and ethical awareness, students will be able to face business challenges confidently.
Location: Wellesley, Massachusetts

Estimated Tuition: $67,562

Credit Hours: 31
22. The University of South Dakota
The University of South Dakota Beacom School of Business online is a high-quality degree that develops leaders for business and government. There are many specializations offered, each with its own requirements. Through the program, leadership opportunities are given to students to strengthen their skills and demonstrate innovation within a market that is always changing.
Location: Vermillion, South Dakota

Estimated Tuition: $68,952

Credit Hours: 51
23. Hofstra University
Hofstra University understands that graduate students have responsibilities outside of school and that by providing an efficient and quality online program, students will be able to progress academically. Hofstra keeps its curriculum relevant to ensure graduates will have the right skills to excel in their chosen career. Its location in New York has provided unique business partnerships and opportunities in correspondence with the programs offered.  
Location: Long Island, New York

Estimated Tuition: $76,600

Credit Hours: 45
24. George Washington University
Located in the hub of Washington DC, George Washington University has fostered institutional and professional relationships with private and public sectors, which gives students the opportunity to connect and network for their future. The MBA provided by GW is comprised of videos, podcasts, animations, and other interactive learning styles to keep the information engaging. In addition to the program, 6 concentrations within the degree are available but not required. Instructors are easily accessible to online students who can chat via video or email to answer questions or get additional help.
Location: Washington DC

Estimated Tuition: $97,957

Credit Hours: 55.5
25. Emory University
Emory University has a series of course for its MBA program that helps students manage personal and professional responsibilities. While the program is intensive, it is also flexible to fit a working student's needs. The online MBA helps students sharpen their skills without falling behind in their work, school, or social life. EU gives skills to students that companies and professionals are looking for, which can take students to the next level of their career.
Location: Atlanta Georgia

Estimated Tuition: $101,700

Credit Hours: 40
We know that finding the best school to fit your unique needs can be a huge challenge. For that reason, we work hard to develop lists of the best schools based on the characteristics most important for you. Whether that be cost of attendance, student success, resources available, flexibility of schedule, or any other number of important factors, we've got you covered. For more information about our ranking process and to find lists of schools based on specific characteristics, check out our methodology page.
If your online MBA program isn't included on this list but deserves consideration for an updated version, please reach out to us today!