Deciding to attend school online is a tough decision. Though it tends to be more convenient for you, the thousands of online programs offered can be quite overwhelming. How do you know which program you want to pursue? Which schools offer that, and how do you know which one is right for you?The sheer amount of information may seem too much at times, but we're here to simplify the decision for you. Here is a list of 16 best online universities that offer a variety of bachelor's, master's, doctoral degrees and postgraduate certificates.
Earn your degree through one of the best colleges in the US, at your own pace, wherever you want. You control the when and where, making it far more realistic for you to complete your degree.
Top Online Universities in 2018
1. Penn State World Campus
Penn State is ranked in the top 1% of universities worldwide and has offered an online program since 2000. They offer over 120 undergraduate and graduate online programs including 40 bachelor's degrees in things like accounting, advertising, finance, and political science. Penn State's on-campus faculty also teach the online classes offered, which means there are plenty of on-campus resources and faculty available to those in the area. If you cannot be on campus, however, online students receive the same perks of meeting with counselors, and other on-campus services, over the internet.
Tuition: $400-$500/credit hour
2. University of Florida Distance Learning
The University of Florida offers more than 300 online programs, with its online MBA program ranked #1 in the state of Florida and online bachelor's program ranked #13, according to U.S. News & World Report. The University offers over 16 different colleges leading to bachelor's, master's, specialist, and doctoral degrees. Distance students have access to an online management system, library resources, career opportunity services, and an online registration program. UF is known for its large research program and is recognized by The Carnegie Classification of Institutions of Higher Education for their scholarly research efforts.
Tuition: $130/credit hour
3. UMasss Online
UMass offers 113 online programs completely online and an additional 12 programs that can be completed through combining on-campus and online study. The University is known for its Master's of Business Administration, Doctorate of Nursing, and Master's of Public Health programs. Distance learners are enrolled in classes from the same prestigious professors who teach on-campus, they are also given the opportunity to walk at graduation on-campus, and are offered library resources and academic counseling.
Tuition: 

$300-$1200/credit hour,

 depending on program
4. Boston University Online
Boston University is a non-profit organization offering programs across 18 different colleges and schools. BU is known for its top online programs in Criminal Justice, Computer Information Technology, and Business. Students can pursue one of nine varying master's degrees or one of a number of certificate programs. The New England Association of Schools and Colleges accredits BU.
Tuition: 

$700/credit hour for most Master's programs
5. Drexel University Online
Drexel University prides itself in offering over 200 programs for its students ranging from bachelor's and master's degrees to professional degrees. This online university is known for having one of the largest cooperative programs that prepares students for careers post-graduation. This system provides students the opportunity to build a large network of colleagues and contacts. Some of the programs Drexel offers are designed on an accelerated platform to accommodate students' future plans. Drexel also offers various study abroad opportunities that are available to online students.
6. Mississippi State University
Mississippi State University is ideal for graduate students; they offer 25 varying master's and doctoral degrees. This online university also offers four undergraduate degrees including the only online Elementary Education program in the state. The University recognizes up to 61 credits for students transferring from another accredited university. The online courses are organized through Blackboard, an online systemization program.
Tuition:

$333/credit hour
7. Arizona State University Online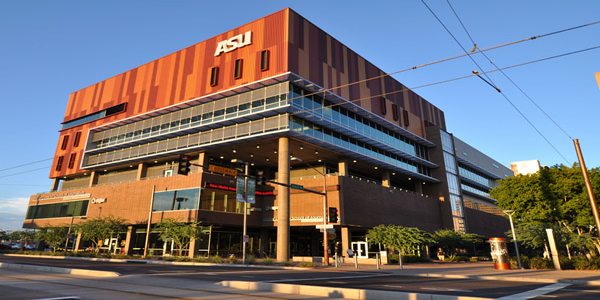 ASU offers over 50 bachelor's degrees, master's degrees, doctoral degrees, and several certificates. ASU offers six different start dates for online students making it convenient for students to start when they are most available. Most classes have specific deadlines for assignments, and some require students to log in at designated times of the day or week. Online students are given the same opportunities that on-campus students have with access to enrollment counselors and academic advisors. The Carnegie Classification of Institutions of Higher Education recognizes ASU as a top research university.
Tuition: 

$490/credit hour 

for undergraduate students
8. Washington State University
Washington State offers nine different undergraduate programs including Accounting, Psychology, Management, and Social Sciences. This online university also offers several master's degrees, online certificate programs, and a few teaching endorsement programs. Online students have access to 24/7 technology support, free online tutors, and a writing lab. WSU is also recognized by The Carnegie Classification of Institutions of Higher Education for their research efforts.
Tuition:

$5,868/semester

 (full-time),

$586/credit (part-time)
9. University of Minnesota
The University of Minnesota offers 17 different online undergraduate programs including Accounting, Management, and Communications. There are nine various master's and doctoral degrees, and several post-baccalaureate programs offered to online students.  These degrees can be completed entirely online, but the school also offers several hybrid programs where students can complete their education partially online and partially on-campus. Online students have access to academic advisors and several other resources offered through the Digital Campus online system. Assignments and test are organized through an online course management system called Moodle and some lectures can be accessed on the school's iTunes account.
Tuition: $11,896/year (2015-2016)
10. University of Alabama
Alabama offers 12 different bachelor degree program in the Arts and Sciences, Engineering, Human Environmental Sciences, and Nursing. The University also offers several master's and doctoral degree programs. Alabama is one of the best online universities because students have access to the career resource center, the writing lab, and scholarships. Students are required to arrange a proctor at a UA approved testing location. Some courses are also offered through video conferencing.
Tuition: 

$340/credit hour (undergraduate), $360/credit hour (graduate)
11. Texas Tech University
Texas Tech is one of the top online universities because it offers six different bachelor's degree programs including Human Sciences, Biology, and General Students. The school also offers 20 various master's degree programs, four online doctoral programs, and many post-grad certificate programs including software engineering, soil management, and wind energy. Texas Tech uses Blackboard as the online management system to facilitate forums, file share, and curate live courses.
Tuition: $9,866/ semester (undergraduate), $8,203/semester (graduate)
12. Colorado State University
CSU offers twelve different undergraduate degrees including Accounting, Information Technology, and Marketing. Classes are offered every four weeks, and several specialization courses are offered to allow students to customize their learning. There are no set start times for classes, giving students plenty of flexibility in their schedule. The Higher Learning Commission accredits Colorado State as a top university. This online university also works with students to transfer as many credits from previous accredited universities as possible.
Tuition: $350/credit hour (undergraduate), $500/credit hour (graduate)
13. Northern Arizona University
NAU offers several bachelor degree programs including Business, Hospitality and Engineering, and several more. The school also offers over 20 master's degree programs including Administration, Communications, and Nursing. The asynchronous online platform offers students great flexibility in their schedule at this online university. Students have access to online support and tutoring 24/7. The Carnegie Classification of Institutions of Higher Education recognizes the university for their high research activity and also holds accreditation from the Northern Central Association of Colleges and Schools.
Tuition:

$400/credit hour on average—costs depend on residency and program enrolled i
14. University of Oklahoma
The University of Oklahoma offers several bachelor degrees including Administrative Leadership, Criminal Justice, Liberal Studies, Lifespan Care, and World Cultural Studies. Most programs are offered on an accelerated paced schedule. Upon admission, many students can meet with an assigned advisor who will help create a graduation plan so students can finish as soon as possible. At Oklahoma, all online programs are accredited by the Higher Learning Commission and designed to accommodate working individuals.
Tuition: 

$306/credit hour (undergraduate), $354/credit hour (graduate)
15. University of Missouri
Mizzou offers more than 90 online degrees and certificate programs including nine various bachelor degree programs such as Hospitality Management, Educational Studies, Health Sciences, and Radiography. Some programs require students to participate on campus for tests or hands-on learning. Online classes are taught by the same on-campus faculty. Semesters range from eight to sixteen weeks depending on the course offered, but all online classes are self-paced. Mizzou uses three different course management systems including Blackboard, Moodle, and Sakai to allow students easy access to their classes.
Tuition:

$276/credit hour (undergraduate), $350/credit hour (graduate) 
16. University of Cincinnati
A member of the University System of Ohio, the University of Cincinnati offers more than 70 online degree and certificate programs. Several online undergraduate degrees include early childhood education, radiation science technology, criminal justice, and substance abuse counseling, among others. Online master's degrees range from medical education to taxation to pharmaceutical sciences. Several general education courses and online certificate programs are also available. Online students have access to an online orientation, academic advising, library resources and tutoring.
Tuition: $459/credit hour (part-time undergraduate), $5,500/term (full-time undergraduate),$724/credit hour (part-time graduate),$7,234/term (full-time graduate)
Online University Reviews
We'll be adding new schools like Liberty University online as we continue to do our research.