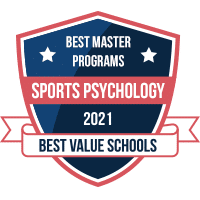 If you're interested in helping athletes of all ages optimize their performance, mental health, and physical condition, sports psychology could be a good career option. Holding a master's degree can prepare you to advance in this field. If you have a passion for sports and the desire to help others, the programs described in this article have the potential to help you reach your personal and professional goals.
Top 5 Sports Psychology Master's Programs
Finding sports psychology master's programs that are right for you starters with assessing your goals. Ask yourself, what do you want to do? Pursue an academic career? Coach? Choosing the right program will largely depend on your own career goals.
Our goal is to provide you with information about some of the best sports psychology programs in the country. We tried to provide a variety of options, with varying specializations and associated costs. All combine aspects of psychology, kinesiology, and counseling to provide truly unique academic experiences.
Best 16 Sports Psychology Masters Programs
Michigan State University
East Lansing, Michigan
Graduation Rate: 78%
Michigan State University's has a well-regard psychology department that garners a #33 rank from The Times of Higher Education. When it comes to sports psychology, Michigan State offers a master's degree concentration that focuses on the psychosocial aspects of sport and concentration in physical activity. The concentration has a focus on the theoretical understanding of psychological and sociological variables as it relates to sports.
The concentration integrates the study of sport psychology – examining the psychological impact on motor performance – and sociology – examining the social structures of sport and physical activity.
Tuition: $40,384
Student-to-Faculty Ratio: 16:1
2
Boston University
Boston, Massachusetts
Graduation Rate: 87%
For those who want a degree that is focused on Sports Psychology, Boston University offers a specialization within its Master of Education in Counseling program. Boston University's program focuses on helping its students develop counseling skills and knowledge to excel. The Specializations offered are school counseling, child and adolescent mental health, and sports psychology.
The Sports Psychology concentration includes fieldwork, and elective coursework focused in this area. Students will gain the knowledge and experience to prepare them for their chosen career.
Tuition: $57,686
Student-to-Faculty Ratio: N/A Online Offered
3
Florida State University
Tallahassee, Florida
Graduation Rate: 80%
Florida State University's Sport Psychology programs integrate theory, research, and real-world learning experiences. The program delves into the psychology of athletic performance and welfare.
Students also develop their research skills through Florida State University's Sport Psychology Laboratory. The laboratory provides students the chance to take theory and work with athletes and teams to see results. The program also provides supervision to students seeking the Certified Mental Performance Consultant status.
Graduates of the program have secured jobs in various areas, including teaching, university athletic departments, pro sports organizations, the military, interscholastic and youth sports, and much more.
Tuition per Credit Hour: $479.32 (resident) or $1,110.72 (non-resident)
Student-to-Faculty Ratio: 21:1
4
University of Denver
Denver, Colorado
Graduation Rate: 79%
The University of Denver's MA in sport and performance psychology is geared toward those with an interest in sport, performing arts, health and fitness, or various mental health fields. The program is a quality, affordable option for those with a passion for sports. The program leverages Denver's thriving sports and performing arts scene, giving students a great location to pursue their education.
This two-year program also provides students with plenty of opportunities to work in the field through the Center for Performance Excellence, the university's nonprofit consulting organization. The University of Denver also boasts the most comprehensive curriculum available that is specifically geared for performance psychology.
Tuition: $23,277
Student-to-Faculty Ratio: N/A Online Offered
5
Oregon State University
Corvallis, Oregon
Graduation Rate: 63%
Oregon State University has an undergraduate, graduate program and doctoral program in kinesiology, making it a great option for those interested in sports psychology. The programs focus on the theoretical and practical study of physical activity. Oregon State takes a holistic approach, studying anatomy, physiology, sociology, and psychology of physical activity and sport and its impact on the individual, culture, and society. Graduates of this program have many career options in fields such as teaching, the fitness industry, coaching, to name a few.
Tuition: $15,267 (resident) or $28,199 (non-resident)
Student-to-Faculty Ratio: 18:1
6
University of North Texas
Denton, Texas
Graduation Rate: 64%
The University of North Texas takes an interdisciplinary approach to sports psychology. The direction you take in North Texas has much to do with what you want to do with the degree. Students have some flexibility to gear the program to fit their goals, whether it's coaching, counseling, or performance enhancement.
North Texas offers undergraduate, graduate, and a Ph.D. program. The Ph.D. is in Psychosocial Aspects of Sports and Exercise. From top to bottom, North Texas offers quality programs that fit a variety of needs if you have an interest in sports psychology.
Tuition: $21,172
Student-to-Faculty Ratio: 24:1
7
Ball State University
Muncie, Indiana
Graduation Rate: 57%
Ball State offers students a comprehensive education in sport and exercise psychology. This public research university located in Muncie, Indiana, offers an MA/MS in Sport and Exercise Psychology. The program partners with the Counseling Psychology and Psychological Services departments, providing students with the opportunity to minor in clinical mental health, rehabilitation counseling, or pursue a dual degree.
Ball State has a strong commitment to research and encourages students to pursue research projects and build experience through presentations, grant writing, community service work, etc. The program also offers students the opportunity to complete applied work toward mental performance consultant certification, supervised by two certified consultants, in a variety of settings, involving youth, collegiate, professional, and disability sport as well as exercise adherence and performing artists.
Tuition: $7,632 (in-state) or $20,898 (out-of-state)
Student-to-Faculty Ratio: N/A Online Offered
8
Minnesota State University – Mankato
Mankato, Minnesota
Graduation Rate: 52%
The Minnesota State University program seeks to build a theoretical base in sport psychology. Successful graduates leave the program better prepared to coach, consult, or apply performance improvement knowledge in their chosen career. As part of the program, students work with local sports programs at the high school, college, and recreational levels.
Tuition: $444.10 per Credit Hour, $44.08 fees per Hour
Student-to-Faculty Ratio: 17:1
9
Springfield College
Springfield, Massachusetts
Graduation Rate: 69%
Springfield College offers a Master's degree in Sport and Exercise Psychology geared for those pursuing scholarship in the field. The university provides theoretical, psychological, physiological, and sociocultural aspects of sports.
The program is interdisciplinary and allows students to take the theoretical while applying it to the real world. Students get to choose between taking the traditional thesis track for the MS degree and the non-thesis track.
The thesis track allows students to pursue research of their choice under the supervision of a faculty member. Students drive the conceptualization of the project, handle data collection, and analysis. The non-thesis track enables students to integrate with athletes at the college and the high school level by providing services.
Tuition: $1,105 per Credit Hour
Student-to-Faculty Ratio: N/A Online Offered
10
San Diego University for Integrative Studies
San Diego, California
Graduation Rate: 67%
This program provides students with the practical training needed to help athletes improve athletic performance while providing psychological insight into what it takes to excel physically. Successful students leave the program positioned to work with athletes, teams, and other athletic organizations.
Tuition: $14,040
Student-to-Faculty Ratio: N/A Online Offered
11
John F. Kennedy University
Pleasant Hill, California
Graduation Rate: 49%
If you are looking for a sports psychology degree, JFK University online master's is an option to consider. The degree combines evidence-based performance improvement techniques, counseling, and kinesiology to deliver a well-rounded experience. The MA in Sport Psychology has led experts in the field both in terms of practice and research. The program can be taken on campus in Pleasant Hill, California, or online.
Tuition: $615.00 per Credit Hour
Student-to-Faculty Ratio: 10:1
12
Argosy University
Orange, California
Graduation Rate: 6%
Argosy University has 27 campus locations as well as online course availability. The sport psychology program is 30-credit hours and incorporates several areas: sport sciences, research, evaluation, group skills, personal training. The program is asynchronous, meaning students complete the work at their own pace. Beyond the master's program, Argosy also offers a doctoral in clinical psychology.
School Overview
Tuition: $750 per-credit-hour
Student-to-faculty ratio: Varies by location
13
University of West Alabama
Livingston, Alabama
Graduation Rate: 30%
University of West Alabama offers a master's in experimental psychology that has a specialization in sports psychology. This 36 credit hour online degree provides the focus sports psychology you are looking for while learning the critical thinking skills, qualitative and quantitative analysis to excel in the field. The University of West Alabama is an affordable option for those seeking a future career in sports psychology.
Tuition: $429 per Credit Hour
Student-to-Faculty Ratio: 14:1
14
California Southern University
Irvine, California
Graduation Rate: 47%
California Southern's Master of Science in Psychology degree provides students with a strong foundation in psychology while emphasizing areas they have a strong interest in. The program emphasizes scientific research and real-world experience obtained in a non-clinical setting. The program includes concentrations include pastoral counseling, addiction counseling, and sports psychology.
The sports psychology concentration is a 5-cred hour option that prepares students in sports counseling, performance improvement, coaching, and more.
Tuition: $325 per Credit Hour
Student-to-Faculty Ratio: N/A Online Offered
15
Barry University
Miami Shores, Florida
Graduation Rate: 62%
Barry University's Sport, Exercise, and Performance Psychology program is specifically geared to meet a growing need in the field of sports psychology. The American Psychological Association named the field a "Hot Career" choice, and the Miami-based Barry University seeks to prepare students for this field.
Successful students graduate from Barry ready for teaching, coaching, fitness leadership, and many other areas. The program emphasizes psychological principles as they relate to the area of sports and physical fitness. This online program provides students opportunities to contribute to their community through research, a practicum, and attendance at professional symposiums.
Tuition: $990 per Credit Hour
Student-to-Faculty Ratio: N/A Online Offered
16
Medaille College
Buffalo, New York
Graduation Rate: 43%
Medaille College has campuses in Buffalo and Rochester, as well as online course availability. It offers a master's in psychology program that has several concentrations, including a concentration in sports psychology. Students gain foundational knowledge in psychology before exploring sub-fields such as sports psychology. The program takes about a year and prepares students for a variety of potential careers, including sports management and coaching. The school also offers a doctoral-level program allowing for further study.
Tuition: $918 per Credit Hour
Student-to-Faculty Ratio: N/A Online Offered
Advance Your Career with A Master's in Sports Psychology
According to the U.S. Bureau of Labor Statistics (BLS), jobs for psychologists will increase by 6% between 2021 and 2031.
While it is true that an undergraduate degree offers a perfect entry path into a career in sports psychology, some careers require more advanced education in the form of a master's degree or a doctorate degree. With a master's degree in sports psychology, specialists can work in a variety or settings helping athletes at amateur and professional levels. With a doctorate degree they can go to serve as licensed clinical psychologists.
Why Study Sport Psychology in a Master's Program
Pursuing a career in sports and performance psychology requires a diverse skill set and broad knowledge of sport psychology. As a sports psychologist, you work directly with coaches and athletes across different sports. A psychologist ensures that athletes maintain a steady path toward peak performance and better physical and mental condition.
How Can A Master's Degree Help Move Your Career in Sports Psychology Along?
A master's program degree is vital in the process of preparing the student with the needed skills, principles, and theories concerning how athletes and coaches deal with the physical and psychological effects of being involved or playing a sport. A master's program is key to teaching students and learners the methods and principles that can be applied while helping athletes and teams boost their performance, improve their dynamics, and overcome emotional obstacles experienced that can hinder their physical performance.
How Do Psychologists Motivate Athletes?
Psychologists understand that one of the best approaches to motivating anyone is making them feel valued and skilled. This idea largely applies to young athletes looking forward to learning strategies and skills necessary for a sport. Motivation is important in teaching athletes the needed skills and in encouraging them to improve their performance. As a psychologist, many strategies can be involved when it comes to motivating athletes, and some of the key ones are:
Encouraging teamwork and rewarding athletes even with the slightest improvement or new achievements.
Monitoring the kind of feedback and response one gives the athletes.
Minimizing criticism but never ignoring the mistakes made by the athletes. Using encouragement and instruction to help athletes work on themselves and improve their weaknesses is much more effective than using criticism.
Responding to athlete mistakes based on their skills and abilities is key to ensuring that an athlete maintains a positive attitude towards a sport.
What Do Sports Psychologists Do?
Having a degree in sport psychology provides one with a solid skillset and the needed experience to work with all kinds of athletes, physical education teachers, and coaches. Sports psychologists can work as licensed mental health professionals, therapists, trainers, and consultants for all sports disciplines.
Psychologists can as well expand their roles to helping athletes in injury rehabilitation processes. A rehab process is often involved when recovering from an injury. Dealing with these anxieties is essential as they can easily affect the performance of an athlete. Other roles and responsibilities that are carried out by sports psychologists include:
Developing mental strategies aimed at helping athletes overcome or cope with injuries and setbacks.
Providing athletes and trainers with psychological counseling.
Identifying the weaknesses and strengths of athletes and evaluating how they affect the performance of athletes.
Rehabilitating and treating athletes that may be facing mental health conditions.
Potential Jobs for Graduates of a Sport Psychology Master's Program
With a master's in sport psychology, you stand a chance of working in different sport-related fields. A master's program will also prepare you to pursue your doctorate if you intend to work as a clinical psychologist. Before choosing to pursue a master's degree in sport psychology, you need to understand what it is and what it entails.
Sports Psychology And What It Entails
Sports psychology is a discipline that focuses on how psychology impacts the performance of athletes. By mastering sports psychology, you become an expert in improving athletes' performance based on their psychological characteristics. By enrolling in a sport psychology class, there are certain skills you learn. These skills are essential in your work life as a sport psychologist. Here are some of the skills you might learn:
Attentional Focus: Attentional focus is the ability to tune out distractions when performing a certain duty. This skill is necessary for professional athletes. Attentional focus helps an athlete concentrate on achieving their goal despite distractions such as screaming fans. Without attentional focus, an athlete can be easily booed out of the game or get carried away by praises from fans.
Imagery: Imagery is the visualization of an act before its execution. While performing, athletes need high levels of imagery ability. This allows them to make decisions on moves and passes make. For instance, an athlete needs to predict an opponent's direction if they execute a certain move. For instance, football players with high imagery abilities display excellent maneuvers with the ball.
Motivation: This is lifting the spirit of people for a performance. As a sport psychologist, you have to master motivational skills for the exemplary performance of the athletes you work with. Motivation is necessary before a performance can be a race or a match. It is also essential after the performance. Athletes need to be motivated after losing so that they improve their next performance. They also need the motivation to keep winning after one victory.
Best Schools That Offer a Sport Psychology Master's Program
Sports psychology is one of the best courses you can take if you have a passion for sporting activities. The course is mostly preferred by athletes who seek to remain in the field after retirement from active sports. However, if you are an enthusiast in a certain sport, you can study sports psychology and be part of your dream sport as an executive or coach. To stand above the rest in the job market, you might have to advance your sports psychology studies to a master's degree level. Many benefits come with a master's degree in sports psychology, including higher salaries. Before enrolling in a class for your master's degree, one of the main factors to consider is the institution you should join.
What to Look for In A School for A Master's In Sport Psychology
Before you enroll in an institution for your master's degree in sports psychology, here are some considerations you need to make.
Reason for Taking the Course: There are many reasons you might choose to study Sports psychology to a master's degree level. Before you start your classes, you should evaluate your short-term and long-term goals. If your aim is to get promoted or get a higher paying job, you should find an institution that is recommended by most potential employers. If you decide to study for passion, you need to find an institution with the best facilities and tutors. This allows you to develop your potential to the fullest.
Availability of The Program: Before you settle on an institution for your master's degree program, you should consider the availability of the program in the institution. Although some institutions might advertise the program, some of them are not accredited to offer the course. Additionally, you should ensure the institution has adequate tutors and teaching facilities to carry out the required training. Amenities such as libraries are necessary as you might be required to do a lot of research as part of your course.
Proximity to The Institution: The distance you live from your institution often determines how much you spend on your studies. If you live far from your institution of choice, you might incur additional expenses for accommodation, food, or commuting. If you live far from the institution, you can enroll in online master's classes. They are cost-effective as you don't have to spend money commuting to and from school.
Cost of The Course: Financial preparedness is essential before you start classes for your master's degree in Sports psychology. You should find an institution whose tuition fees and other payments are affordable according to your financial state. Some institutions charge cheaper when you enroll in online programs. If you cannot finance your studies, you can apply for scholarships and grants from various organizations.
There are many institutions in which you can study for a master's degree in Sports psychology. The average cost of study in these institutions depends on the internal policies of the institution. Having a master's degree is not a guarantee that you will be employed. Your chances of being employed depend on your networking skills and discipline, especially during attachments. Most potential employers will look at your academic performance as well as your discipline when at work.
Application Requirements for A Sport Psychology Master's Program
A sports psychology master's program is available in individual institutions across the country. After completing it, you get a chance to help athletes and performers achieve their set goals in life by working in student recreation centers.
What Does It Take To Qualify For Such A Program?
You must consider all the requirements that you need to meet before you can embark on this new chapter of your life.
Educational Requirements
Sports psychology master's degree programs often require applicants to have fulfilled many or all of the following educational prerequisites:
Bachelor's Degree: Most institutions require applicants to have a bachelor's degree from an accredited institution. This degree doesn't necessarily have to be in psychology, but having a background in psychology, kinesiology, or a related field can be advantageous.
Coursework: Some programs may require applicants to have completed specific coursework during their undergraduate studies. Typically, this includes courses in general psychology, statistics, and research methods. Some programs may also prefer students with coursework in exercise science or kinesiology.
GPA: Institutions often have a minimum GPA requirement for admission into their master's programs. This varies by school, but a GPA of 3.0 or above is commonly required.
GRE Scores: Many programs require Graduate Record Examination (GRE) scores. Some programs may require the Psychology Subject Test in addition to the General Test.
Letters of Recommendation: Applicants typically need to provide letters of recommendation from former professors or professionals who can attest to their qualifications and suitability for the program.
Statement of Purpose: A well-crafted statement of purpose detailing the applicant's interest in sports psychology, career goals, and why they're interested in that specific program is usually a requirement.
Research Experience: While not always required, some programs prefer applicants with undergraduate research experience, particularly if the master's program has a strong research component.
It's important to note that requirements can vary between institutions and even between different programs within the same institution, so it's crucial to check the specific requirements of each program.
Sports Psychology Curriculum and Courses
The following are examples of some of the typical coursework included in sports psychology programs.
This course provides students with insights into human movement analysis and factors related to it.
This course typically involves behaviors and theories of sport and how they are perceived cognitively, socially, and existentially. Topics including gender, class, and culture may also be considered.
Clinical Exercise Physiology
This course focuses on cardiopulmonary and metabolic disease and how it can affect a person in their exercise regimen. The course may also look at how to best approach people with these issues to improve their overall health.
Biomechanics of Musculoskeletal Injuries
This course may cover how the body heals damaged tissues. Other topics might include the mechanisms of injuries and force characteristics that cause injuries.
How to Become a Sports Psychologist
Completing a sports psychology master's program is the first step in this process. Before you enroll in a master's in sports psychology and work in the field, consider the following typical path.
1. Complete an undergraduate degree in psychology or a closely related field
2. Complete a sports psychology master's program
3. Work to get experience
4. Obtain certification from the state board
How Much Does It Cost to Attend a Sports Psychology Grad Program?
Many factors affect the overall cost of sports psychology graduate programs. Schools set their costs per credit hour. Each school will cost a different amount, with costs ranging from $300 to $900 or more per credit hour. Scholarships, grants, financial aid, and financing options may be available.
Sports Psychology Licensure Requirements
Each state sets its own rules related to obtaining licensing. This includes differences in which programs the student needs to take, how many years of on-the-job training they need, and other factors. Some of the typical requirements include:
Completing a master's and, in some cases, a doctorate in sports psychology from an accredited program
Work in the field with supervision for several years
Complete necessary background checks and be of good moral character
Apply for licensure and complete the state-wide required examination
FAQs
What Is Sports Psychology?
Sports psychology is the study and understanding of psychological factors as they relate to athletes. They focus on the knowledge and skill development needed to create and build well-being in athletes.
How Long Does It Take to Earn a Master's Degree in Sports Psychology?
Earning the master's program for your sports psychologist education typically takes about two years. This usually includes about 36 credit hours of study.
Do I Need a Doctorate Degree to be a Sports Psychologist?
Most states require licensed clinical sports psychologists to hold a doctorate before they can obtain their licensure.
What to Do After Earning a Master's in Sports Psychology?
Many students earn their master's program and will begin working in the field. They may work in an office with other psychologists to gain education and training. They also enroll directly in their doctorate program to work towards this educational requirement.
What Is the AASP?
The Association for Applied Sports Psychology (AASP) promotes the science and ethical components of the field of sports and performance psychology. This is an international organization.
Are There Online Sports Psychology Programs?
There are some colleges and universities that offer online master's in sports psychology. However, most will still have requirements for in-person lab work and training. Hybrid education is available through some academic institutions.
Application Process for the Graduate Program
Be ready to attend school on a full-time basis to complete a graduate degree in sports psychology. Even when attending school full time, you require 4 to 7 years to complete it. Once you've sorted the time, you can proceed to apply.
Find Out When to Apply
Most master's courses have deadlines, after which you can't apply until the next academic year. Therefore, start by finding out the best time to apply for the sport psychology graduate program from the school you choose. Also, decide whether you're attending physical or online classes.
Next, apply on time. It's not wise to wait until the last minute to submit your application. You might miss some requirements and need to submit them before closing day. Applying in advance gives you time to streamline everything with the school and be ready to start.
Submit the Application
After completing the forms, you can submit them online. Many institutions prefer an online application for the course. Just ensure you don't miss any critical parts and give out all requirements. After that, you can now wait to hear from the school.
Also, it won't hurt to prepare a portfolio and a personal statement if necessary. At times, the course can attract plenty of applicants. It leads to the committee meeting students in-person to assess those who fit the requirements and understand sport psychology's importance.
In Summary
Regardless of where you choose to work, a sport psychologist's overall job includes offering psychological counseling and assessing an athlete's relationship between their mental state and physical performance—plus diagnosing cognitive strengths and weaknesses that may affect someone's performance.
When choosing a sports psychology master's program, everything will narrow down to your ideal needs. First and foremost is the need to select a plan based on your interests, which may span from where you would wish to work, the psychology school that offers the best programs, the future earning potential, and the need to advance your future career.
Also important to note is that whether you go for an online or on-campus program, the end is always the same. But ensure you go for an alternative that will not limit you in any way, like in costs, flexibility, and development of practical skills. There are also some other things you will want to have in mind when applying for a master's degree program in sports psychology.
Ensure you research the market of schools offering these programs first. With this, you will have assessed the level of academic standards they provide and their programs' costs. Moreover, ensure you have all the requirements needed to enroll in any given university based on academic performance.