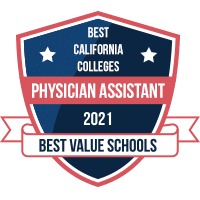 The physician career is one of the most valued professions in the medical care industry. However, physicians cannot handle all the responsibilities alone, and for that reason, they need a physician assistant. Medical physician assistants are generally personnel's in the health care industry who help surgeons, doctors, and other health care professionals in handling several tasks. Some of the tasks performed by a physician assistant include performing basic examinations, counseling and educating patients, writing prescriptions, giving treatment, and monitoring patients in various medical facilities.
Top 5 PA Schools in California
The initial step in becoming a physician assistant is earning yourself the appropriate bachelor's degree from a certified institution. Undergraduate programs that can get you started in the physician assistant profession include health science, medical terminology, statistics, quantitative methods, and healthcare ethics. In the below discussion, we are going to look at some of the best Physician Assistant schools in California, their tuition requirements, accreditation, and total enrollment.
Best 15 PA Schools in California
Ranking Methodology
This ranking was based on the analysis of best software data from the U.S. Department of Education's College Scorecard and the respective university websites. The schools were ranked based on tuition amounts per year, total enrollment, and Accreditation. All the factors were accorded equal points, and each school was assigned points based on how it compared with others on tuition amounts, total enrollment, and Accreditation. The points earned for both ranking factors were then added together to get each school's total score. The school with the most points ranked first in the list, and the points were accorded down the list accordingly.
We strive to provide current and accurate information to our readers. If you're associated with one of the schools we've ranked above, and you realize an error in the information provided, please feel free to contact us and let us know so we can make any necessary corrections.