In order to provide prospective students with the best chance at having a great education, we have compiled this list of the top universities and colleges in Nevada. Some schools may excel at online programs while others may focus exclusively on the traditional, on-campus aspect of higher education. Regardless of the delivery format, these schools excel at providing a quality education for their students.
Colleges in Nevada provide a great opportunity for non-traditional students looking to complete a degree but who have other commitments to attend to. The Vegas metropolitan area is constantly growing, as are its Universities and the programs they offer. Approximately 9.8% of students in higher education are enrolled fully in online programs with a Nevada institution.
Choosing to pursue an online degree results in lower tuition rates, self-paced courses, and flexible scheduling. Universities in Nevada encourage both in and out of state students to enroll in its quality online programs that include many student services and support tools. Online students are awarded the same degree as on-campus students. Below is a list comprised of the best colleges, both online and on-campus, to choose from in the state of Nevada. Please explore the list to see which university is the best fit for you.
Here are the Best Colleges in Nevada
1. Great Basin College
Great Basin College offers 22 online degree programs in associate's and bachelor's forms. Classes are taught using many different tools such as videos, discussion boards, group assignments, and recordings. Great Basin has approximately 4,000 online students with a proven track record of success from the program. Popular degrees include nursing, land surveying, education, business, and more. Great Basin College has made digital learning as interactive and engaging for its students as it can be. As one of the most affordable online colleges in Nevada, making education an opportunity for individuals to achieve.
Tuition: $2,535.00

Graduation Rate: 14%

Enrollment: 3,024
2. College of Southern Nevada
College of Southern Nevada offers online associate, baccalaureate, and certificate programs. Sociology, international languages, casino management and more are popular areas of study within the college. Resources such as online library access, tutoring, and academic advising are available to students to help succeed in their academics. Online classes begin and end at the same time that on-campus classes do with regular assignments and due dates as usual. Online students can easily interact with other students and teachers through online chatting, video chatting, and discussion boards as a way to stay connected.
Tuition: $2,535.00
Graduation Rate: 9%
Enrollment: 44,088
3. Nevada State College
Nevada State College currently has 45 majors and minors ranging from biology to fine arts. Online classes use the learning tool Canvas, as a functional platform to communicate with teachers, submit assignments, access course materials, and more. Classes can be taken in fall, winter, spring, and summer with four-week or eight-week term lengths depending on how accelerated students want their classes to be.
Tuition: $4,482.00
Graduation Rate: 14%
Enrollment: 3,634
4. University of Nevada Las Vegas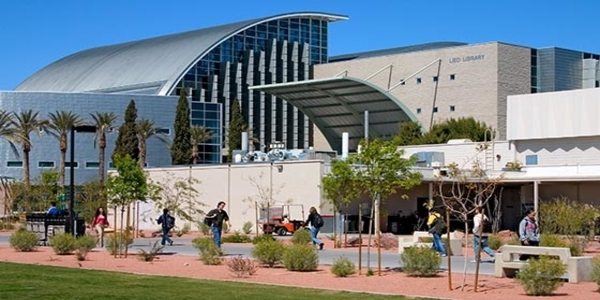 The University of Nevada Las Vegas offers online individual courses as well as complete degree programs. Students have the option to select hybrid courses to complete a degree sooner. Resources for online students include an online job board, tech support, online library, and online writing assistance. UNLV has a diverse student body with students representing 72 different countries both online and on campus. The University makes navigating its online learning courses and curriculum easy for students, and also provides 24/7 assistance if needed.  Bachelor's, master's, and doctoral degrees are available to complete.
Tuition: $6,044.00
Graduation Rate: 41%
Enrollment: 28,515
5. University of Nevada Reno
The University of Nevada Reno offers a variety of degree options that make it stand out as one of the best online colleges in Nevada. With over 200 courses to choose from, students can choose the number of credits and pace of the program that best fits their schedule. UNR provides access to its academic help center, which can help students with a range of subjects like writing and math. The university is large in student population, however, professors provide individualized time and attention to each student both on campus and online.
Tuition: $10,252.00
Graduation Rate: 54%
Enrollment: 22,934
6. Sierra Nevada College
Sierra Nevada College offers 2 fully online undergraduate programs in psychology and global business management. These programs follow a three-semester format with six-week modules in fall and spring. With small classes, students are able to create relationships with teachers for more support and easy access for questions or help. SNC values the importance of environmental, social, economic, and educational stability and shows that in its academics and leadership. Sierra Nevada creates an individualized learning experience that helps students grow.
Tuition: $28,180.00

Graduation Rate: 49%

Enrollment: 1,039
7. Touro University Nevada
Touro University Nevada offers masters and doctorate degrees in education and nursing fully online to students. The private university provides excellent student support to help students succeed and have the necessary tools to excel in their education. Class sizes are small which allows teachers and students to foster relationships to receive academic support and guidance.
Tuition: $31,800.00

Graduation Rate: 78%

Enrollment: 1,319
8. Western Nevada College
Western Nevada College has been helping students succeed since 1971 by providing associates and bachelors degrees, as well as workforce training and certifications. WNC has designed their online programs to fit the needs of those living in remote places, or those with commitments to work or family.
Tuition (Fall & Spring): $3,082.50 (lower division), $5,047.50 (upper division)
Graduation Rate: 21%
Enrollment: 4,277
The ranking process for this list was determined by tuition cost. The list begins with the lowest cost and progresses throughout the list.
We know that finding the best school to fit your unique needs is a huge challenge. For that reason, we work hard to develop lists of the best schools based on the characteristics most important for you. Whether that be the cost of attendance, student success, resources available, flexibility of schedule, or any other number of important factors, we've got you covered. For more information about our ranking process and to find lists of schools based on specific characteristics, check out our methodology page.
If you know a college that isn't listed here but deserves future consideration, please reach out to us today. We're constantly looking for the best schools, providing education and support to students across the country.