The state of Illinois currently has over 150 colleges offering online programs. Illinois is home to many large corporations and key institutions that have hired from many student programs within the state. Online colleges in Illinois are a great choice for individuals looking to advance in their career.
Online programs have many benefits for the average working student. Flexibility and convenience are attractive factors that make online learning so desirable. Learning online promotes self-discipline, time management, and ability to learn independently which are valuable skills to have in the work field.
Below, the top online colleges in Illinois are curated based on academic quality, the variety of programs, student resources and more. Many schools emphasize different values, it is important to find a college that best fits your career and educational goals.
Here are the Best Online Colleges in Illinois
1. Lake Land College
Lake Land College offers approximately 200 courses each semester. Through its online programs, students can expect the same rigorous yet rewarding learning offered on campus. Five programs are available completely online, which includes business administration, health information, marketing, management, and medical coding. Online learning resources are accessible for students to help students reach their education goals.
Tuition: $3,400.00
Graduation Rate: 32.8%
Enrollment: 8,200
2. Governors State University
Governors State University is founded on the principles of innovation, openness, and flexibility. Online courses are delivered in a 15-week long format. Degrees and certificates can be achieved through GSU's online learning programs. GSU encourages all of its students to engage with the division of student affairs, which helps students throughout their program.
Tuition: $7,650.00
Graduation Rate: 40%
Enrollment: 5,776
3. Chicago State University
Chicago State University provides distance education at to make learning opportunities more convenient for students. By earning valued credentials from Chicago State University, students are able to excel in their desired career. CSU has many degree options to choose from at an affordable price, with options to enroll in hybrid courses for students looking to complete their degree at a faster pace. The online realm of learning can be difficult, Chicago State continues to evaluate and improve its online education portal.
Tuition: $9,846.00
Graduation Rate: 19%
Enrollment: 5,211
4. National Louis University
National Louis University's online programs have developed into one of the leading institutions for distance learning. NLU provides each online student a one to one industry-related mentor that students can gain insight from throughout their program. While many degree options vary, many can be completed in as little as 18 months. The university offers 18 degrees in undergraduate, graduate, and postgraduate levels. While most online degree options require some outside engagement, NLU allows students to complete requirements wherever they currently reside. Its most popular degrees to be completed are business management and business administration.
Tuition: $12,492.00
Graduation Rate: 44%
Enrollment: 4,582
5. Lincoln Christian University
Lincoln Christian University has roughly 20% of its student body enrolled in online programs. LCU offers 7 degrees options at undergraduate and graduate levels. A mandatory online introductory course must be completed to help students get familiar with the online portal. As a religious institution, Christian values are incorporated into the curriculum emphasizing principles related to education and leadership. LCU maintains affordable tuition and has financial aid options as well.
Tuition: $15,810.00
Graduation Rate: 45%
Enrollment: 940
6. Aurora University
Aurora University is a small school that offers quality education to its dedicated students. Online students still have the same opportunities as on-campus students such as gaining a hands-on internship and networking with award-winning faculty. As a convenience to students courses are offered year round in five to eight-week formats. Student interaction is made through online discussion boards, chat rooms, and more. Social work, criminal justice, computer science and other degrees are available to students online.
Tuition: $21,120.00
Graduation Rate: 52%
Enrollment: 7,485
7. Greenville College
Greenville College promotes a collaborative learning environment within its online portal. In each program study groups, group assignments, and more provide students with access to peer help and allows individuals to gain insight from others in the same courses. Greenville also has designed an academic boot camp and coaching program for students who feel they need extra help while earning their degree. Some of the online programs can be completed in as little as 20 months with accelerated bachelor's programs. Greenville's most popular programs are business administration and master of arts in teaching, curriculum, and instruction.
Tuition: $24,140.00
Graduation Rate: 54%
Enrollment: 1,307
8. Western Illinois University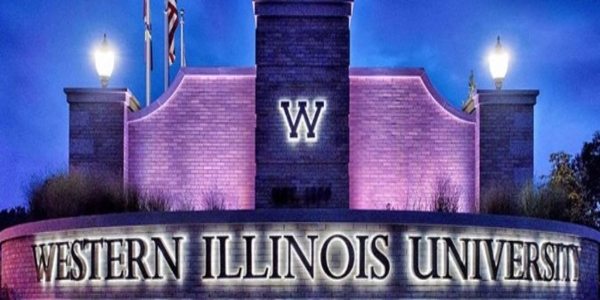 Western Illinois University's School of Distance Learning offers flexible degree completion programs. Nursing, business, and education are WIU's top three sought-after programs online. The university has grown from 200 to 10,000 students since it was first founded and continues to grow. A unique feature that WIU offers is that students can self-pace and take as long as they need to complete their degree.
Tuition: $24,262.00
Graduation Rate: 55.2%
Enrollment: 11,094
9. Benedictine University
Benedictine University requires an online simulation course to ensure that pursuing an online degree is the right path. BU allows students to transfer up to 90 credits making for a faster degree completion. The university values well-prepared students and help those students become prepared professionals by providing any and all educational experience that can be of use to them. Individualized academic advising, tech support, access to the online library and bookstore, and more are easily available to students seeking guidance or resources.
Tuition: $25,572.00
Graduation Rate: 53%
Enrollment: 6,307
10. Quincy University
Quincy University is known for its student engagement within its community. Preparing successful leaders for the work field is something that QU does well through its academic programs. Online degrees allow students to take and complete courses at their own pace. Programs require proof of age to ensure that the student is an adult. Quincy encourages students who are self-motivated and who have strong time management skills to enroll in online courses and receive the benefits of digital learning. QU is adamant about its career services and helps students work towards their career goals.
Tuition: $25,598.00
Graduation Rate: 56%
Enrollment: 1,100
11. North Park University
North Park University currently offers 20 degrees to pursue with additional benefits such as certificates and hybrid complete options. The online programs at North Park combine quality and personal engagement in its curriculum for a unique experience. The top 3 online programs are master of business administration, master of nonprofit administration, and master of human resource management. The school of professional studies are designed to fit student's busy schedules and allows students to access and complete most of the course requirements at their own pace.
Tuition: $25,860.00
Graduation Rate: 56%
Enrollment: 2,151
12. McKendree University
McKendree University is one of Illinois' oldest university with an established online learning portal. Students have access to online orientations to explore different programs before committing and enrolling. Nursing, education, and business administration are McKendree's top online programs that students enroll in. Part-time and full-time options are available as well as accelerated formats to shorten time earning a degree. Academic, career and financial services can be easily navigated on the university's home page to maximize student success.
Tuition:$25,900.00
Graduation Rate: 49%
Enrollment: 3,131
13. Judson University
Judson University, a Christian Institution, has one of the leading online programs in the state of Illinois. With 5 bachelor's degrees to choose from, Judson assists its students through its online career center, focusing on students' futures. There are no differences between online degrees and on-campus degrees, students receive the same recognition. Judson has a student to faculty ratio of 10:1, and values the student-teacher relationships from its small class size. Students also receive access to financial aid and scholarships as well as assistance in finding an internship to gain experience from.
Tuition: $26,750.00
Graduation Rate: 50%
Enrollment: 1,200
14. Roosevelt University
At Roosevelt University, a web browser and internet connection are all you need to pursue an online education from any location. Online classes require equal time commitment as in-person classes. Roosevelt also offers online webinars and training sessions for distance learners which include test prep, tutoring, and tech support. Hybrid options are available to students who want to accelerate their program. Criminal justice, organizational communication, and strategic management and innovations are all programs that can be tailored to a student's needs.
Tuition: $26,900.00
Graduation Rate: 42%
Enrollment: 6,069
15. Concordia University Chicago
Concordia University's learners enter a dynamic and exciting environment when enrolling within the online programs. The courses are structured to allow students to access and complete assignments at a time that best fits their needs. Online students are permitted to take only one class per semester to ensure students dedicate time and focus to complete the course. CUC's online community is 40% of its student body, which has led to developing and providing top resources to its online learners.
Tuition: $28,140.00
Graduation Rate: 55.7%
Enrollment: 5,038
16. University of St. Francis
The University of St. Francis is one of Illinois' largest online community. There are many platforms that are used in the university's online system to increase engagement among peers and teachers such a video chats, discussion boards, etc. All courses are taught in 8-week accelerated formats specifically designed for working adults. USF integrates service learning and ministry to promote transformational experiences among its students. St. Francis shapes its students to becoming leaders and applying theories to real life practices.
Tuition: $28,220.00
Graduation Rate: 56%
Enrollment: 3,762
17. Illinois State University
Illinois State University offers online programs across undergraduate, graduate, and postgraduate levels. A total of 70 different programs can be pursued from subjects in health care, education, and more. In addition to receiving a quality education, ISU offers online tutoring, academic counseling, writing services, and more. The university has developed its own web-based learning and collaboration system to best deliver online education to all students. Popular degrees from the university include business administration and public health in leadership.
Tuition: $28,295.00
Graduation Rate: 71%
Enrollment: 21,039
18. Lewis University
Lewis University, a private Roman Catholic school serves the online community of working and professional adults. Lewis University is unique in its degree options, providing specific and different degree options. It is one of the only schools that offer a degree in aviation and transportation. All professors who teach online courses receive special online training and must be certified as an online professor prior to teaching. This university is a great fit for graduate students, providing many degree options such as criminal and social justice, computer science, and organizational leadership. Lewis also allows students with background and training in certain areas to test out of certain courses in order to earn their degree earlier.
Tuition: $29,040.00
Graduation Rate: 62.5%
Enrollment: 6,800
19. Olivet Nazarene University
Olivet Nazarene University has designed its online programs to be accelerated for students to finish in less than 2 years. ONU offers bachelor's and master's level degrees in topics ranging from engineering to criminal justice. The University understands that its online community has other commitments and that convenience and flexibility are key components to making an online program beneficial. Each year Olivet adds new programs due to its growing online community. Students are drawn to the environment that the school has created both on and offline.
Tuition: $30,550.00
Graduation Rate: 57%
Enrollment: 4,861
20. Dominican University
Dominican University has small and personal online classes, that are supportive and interactive with peers and professors. DU offers 3 online programs to choose from that are in high demand and hold a high standard for online education. Dominican University is constantly improving its online academics to provide the same type of learning on and offline. The 3 programs include bachelor of arts in human services, bachelor of arts in legal studies, and master of arts in conflict resolution.
Tuition: $30,670.00
Graduation Rate: 62.9%
Enrollment: 2,272
21. Elmhurst College
Elmhurst College makes earning a degree for busy adults that much easier. Bachelor's degrees and certificates are delivered in four or eight-week formats that can be accessed on the student's schedule. Elmhurst also offers an online MBA program, with the option to specialize in an area of interest. Elmhurst also has a generous transfer credit policy to help students remain on the right track to earning a degree with little to no setbacks. Information technology and applied psychology are two well-known programs among many that the college offers.
Tuition: $33,700.00
Graduation Rate: 74%
Enrollment: 3,257
22. DePaul University
DePaul University provides students with a wide range of study options accessible from their home. DePaul offers 6 bachelor's degrees and 20 master's degrees achievable in an online format. The university is one of the largest Catholic Universities in the United States, with many organizations and networking opportunities to benefit from. DePaul has invested in its distance learning programs, which has resulted in the unique curriculum that students are drawn to. The University believes in accessible education and has provided the means and tools for students to be able to access and learn from any location. Top online programs from the institution include computer science and business administration.
Tuition: $34,390.00
Graduation Rate: 68%
Enrollment: 23,799
23. Loyola University Chicago
Loyola University Chicago offers an assortment of degrees at all academic levels. Its online programs belong to 3 different categories; online, hybrid, and blended. An abundance of resources is available to students such as online tutoring, library, career development, and more. The University is especially known for its degrees in law, nursing, and psychology. Its trained faculty creates and delivers the material for online students and provides support within the online realm of learning. Loyola maintains its 14:1 student to faculty ratio to maintain the quality relationships that students can have with their instructor.
Tuition: $36,146.00
Graduation Rate: 70%
Enrollment: 15,902
24. Northwestern University
Northwestern University offers online and hybrid degree programs through its school of professional studies. NU bases its teaching and development on current and purposeful theories to apply in the professional work field. Through its universal distance education model, students can interact with their peers and professors and remain connected to the university. In 2013 the university won the honor of Blackboard Exemplary Course Award in recognition of its online course programs.
Tuition: $50,855.00
Graduation Rate: 93%
Enrollment: 21,000
25. University of Chicago
The University of Chicago has greatly contributed to fields of medicine, meteorology, and mathematics making it an established university. Currently, the university offers five online certificate programs. Topics include editing, business analytics, medical writing and editing, clinical trials management and regulatory compliance. Students can begin courses at any time, making it adjustable to fit the needs of their schedule. The University of Chicago is dedicated to creating and delivering quality content to distance learners in a more innovative way.
Tuition: $53,292.00

Graduation Rate: 92%

Enrollment: 14,467
The ranking process was determined by tuition cost. Beginning with the lowest amount the list progresses.
We know that finding the best school to fit your unique needs is a huge challenge. For that reason, we work hard to develop lists of the best schools based on the characteristics most important for you. Whether that be cost of attendance, student success, resources available, flexibility of schedule, or any other number of important factors, we've got you covered. For more information about our ranking process and to find lists of schools based on specific characteristics, check out our methodology page.
If you know of a school not listed here, but that deserves consideration for a future revision, please contact us today!