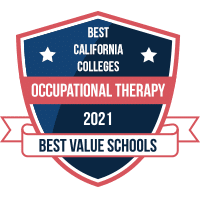 Our Ranking Methodology
Our rankings were determined by each school's yearly tuition rate (in-state) and graduation rate. Both values made up 50% of the school's score in comparison to the other schools being ranked in the article. In the case of a tie, the schools with the lowest tuition rate were ranked first. The school with the highest score was ranked first with the other schools following in descending order.
If you're looking for the best occupational therapy schools in California, you can find the perfect program using our services.
Representatives of the schools on this list can contact us with any questions or corrections they may have.