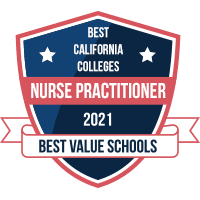 Our Ranking Methodology
We used our proprietary formula to rank the nurse practitioner programs on this list. We took two vital statistics (yearly tuition rate and graduation rate) and put them into our formula to come up with a rating. If the school is a public institution that charges varying tuition based on a student's residency, we looked only at the resident rate. Our formula takes the tuition rate and adds a multiplier that is equivalent to the percentage of students who did not graduate from the school. The resulting rating is used to rank schools from #1 (lowest rating) to #26 (highest rating). Here's an example: ABC University has a yearly tuition rate of $30,000 and a graduation rate of 80%. Its rating would be 36,000 (30,000 x 120%).
Students looking for the best nurse practitioner programs in California can find what they're looking for on our site.
Representatives of the schools on this list can contact us if they need to make changes or request corrections.