In order to provide prospective students with the best chance at having a great education, we have compiled this list of the top teaching programs in the country. Some schools may excel at online programs while others may focus exclusively on the traditional, on-campus aspect of higher education. Regardless of the delivery format, these schools excel at providing a quality education for their students.
Teachers are the ones who help us learn and grow as we form our ideas, values, and skills. They often have a great impact on us because they assist in determining the educational path we will continue or the career we choose to pursue.
Teaching is a fulfilling and practical career; teachers are in demand and salaries are often competitive in most professions. Online teaching degree programs are available for those considering a teaching career. According to the Bureau of Labor Statistics, the annual mean wages for different teachers are as follows:
Colleges, Universities, and Professional Schools:

$77,240

Junior Colleges:

$65,040

Elementary and Secondary Schools:

$49,840

Other Schools and Instruction:

$43,100

Child Day Care Services:

$27,700
Those wishing to have this rewarding career will have to complete several different requirements. The first step is to fill out a teaching degree program. This level can be through either an on-campus program or an online education degree program. There are several different options available to those wishing to receive a teaching degree online. Many different schools offer certificates, associate's degrees, bachelor's degrees, master's degrees, and doctorate degrees online.
In the U.S., all public schools require teachers to have at least a bachelor's degree and a valid teaching license. Certification is also required to teach in public schools.
Associate's Degree in Teaching
Although bachelor's degree holders should be the ones teaching in public schools, an associate's degree can provide those pursuing a teaching career with the basics they need to pursue a teaching profession. Associate's degrees for teaching are a good option for those who are unsure if they want to teach but would like to explore the possibility. They are also ideal for those looking to complete general education courses at a community college before transferring to a bachelor's degree program.
An associate degree in teaching prepares students for general education courses that build a foundation for future coursework. Students are required to complete courses such as English composition, math, history, social sciences, humanities, and fine arts. After these core courses are complete, students can take elective courses in early childhood education, special education, physical education, or other specialized areas of teaching.
Bachelor's Degree in Teaching
A bachelor's degree is the most traditional and convenient way to transition into a teaching career. A bachelor's program is a four-year degree that covers the foundational concepts needed to teach, nurture, and maintain students (ages 5-18) in a classroom. Many programs teach the history of the education system, child psychology, and teaching methods. Depending on the courses taken and specialization, this degree typically takes four to five years of full-time enrollment to complete.
Bachelor's degrees vary and allow students to pick a specific teaching area. All programs include educational methods, teaching theory, and social science but they differ in instructional content. For example, elementary education majors take courses specific to teaching young children. Courses may include a history of elementary education, lesson planning, curriculum development, classroom management, as well as the core elementary studies: social studies, math, science, and reading. Teaching majors for middle school and high school education have slightly different programs than elementary education majors. They take similar base classes but instead of taking all of the core studies, they concentrate in one subject area like Math or English.
Many bachelor's degree programs also include certification options. While enrolled in the bachelor's program, students complete their student teaching and take the exams required to earn a state license. While this may include additional coursework or an extra semester, this is an excellent option for students wishing to become a teacher as soon as possible.
State certifications vary by each state and may require special education. For example, some states only allow bachelor's degrees to teach kindergarten through sixth grade. Before beginning a program or certification, make sure to research your state's requirements. If enrolling in an online program, verify that the degree offered is state approved for seeking licensure.
Master's Degree in Teaching
Most master's programs in teaching prepare students for educating preschool through twelfth grade. A master's degree usually takes about two years to complete and requires approximately 15 courses. Students who want to obtain a master's degree must have an accredited bachelor's degree and experience working with children.
Master's programs in education build upon knowledge gained in a bachelor's program and focus on learning theory, the psychology of instructional approaches, and specialization courses. Curriculum heavily concentrates on an area of teaching, like a particular grade level and specific course of study. For example, a student who wants to specialize in elementary education would choose a focus, such as literacy, and would take classes in childhood development, language acquisition, and reading curriculum design.
In addition to courses, master's degree students are required to have teaching experiences while enrolled. This experience involves teaching practice which can account for up to 50% of the work within the master's program. Teachers get a hands-on experience teaching in real-world classrooms. Graduate students get the opportunity to use techniques they have learned in class and to further develop their teaching skills. Student teachers begin by observing experienced teachers and their classroom conduct. Later on, student teachers instruct courses and are observed by experienced teachers for feedback.
A master's degree in teaching usually meets all requirements for students to become state certified to teach in public and private preschools, elementary schools, middle schools, and secondary institutions. Programs are also available to teachers who are already certified but want to continue their education to be eligible for post-secondary teaching opportunities. There are even online master's programs available, the possibilities are endless!
Doctoral Degrees in Teaching
Those wishing to pursue a career in academic leadership or professorship need to receive a doctoral degree in education. To be accepted into a doctoral degree program an applicant needs to have an undergraduate degree or master's degree, teaching credentials, and the required GRE scores. Doctoral programs can take three to five years to complete and require up to 90 credit hours of study.
There are two different degrees available to students that want to study teaching at this level: a Doctor of Philosophy (PhD) or a Doctor of Education (EdD). PhDs are more suited for those interested in curriculum design and research while an EdD is better suited for those who wish to work as school administrators or staff members.
Doctoral degree programs typically include courses in literacy education, instructional styles, and research methodology. Students are required to design and complete a research project. In addition, they must write a dissertation on a topic of their choosing. Online EdD students may be offered a fellowship at a traditional university to conduct and complete their research.
Certificates in Teaching and State Licensing
There are two popular types of certificates in teaching: graduate teaching certificates and post-baccalaureate certificates. Graduate teaching certificates are required to fulfill state requirements for the teacher licensing exam. Post-baccalaureate teaching certification allows teachers to instruct kindergarten through twelfth grade in both private and public schools. Most post-baccalaureate certification programs require undergraduate courses in math, communications, reading, and critical thinking, as well as Praxis I exam scores.
These programs take a year or two on average to complete and include 10 to 20 courses and teaching practice. The teaching certificate curriculum is designed to cover state standards for teaching in public schools. Specific coursework depends on your specialization or teaching area. Most programs, regardless of teaching area, require students to take common core classes. These courses include childhood literacy, a context of education, educational technology, instruction skills, student evaluation, and teaching mathematics. All online teacher certification programs require on-site supervised teaching practice in a real school setting.
Licensing varies depending on the state, however, there are certain core requirements for programs across the country. All states require the following:
Proof of a 4-year degree from an accredited institution

Student teaching experience

Test scores from a general knowledge teaching certification exam, professional education teacher certification exam, and a content-specific test for the grade or subject the student wants to teach

Background check
Teachers can also receive a National Board for Professional Teaching Standards Certification (NBPTS). NBPTS does not replace state licensing but does complement it. This certification requires applicants to have a bachelor's degree from an accredited institution, a valid teaching license, and three years of teaching experience. Certification is known for being rigorous and is a voluntary assessment program with a peer-review process.
Many schools offer different teaching degrees online. Without further ado…
Here are the Schools Offering the
Best Teaching Degrees of 2018
1. Kaplan University
Kaplan offers a variety of online graduate and undergraduate programs in education. The School of Education at Kaplan has created programs that are innovative and help prepare students for teaching kindergarten through college. Some of the programs they offer include:
Master of Arts in Teaching – Iowa Certification

Master of Arts in Teaching – Nationwide (not Iowa)

Master of Science in Education

Master of Science in Educational Psychology

Master of Science in Higher Education

Master of Science in Instructional Design and Technology

Single courses for certification
---
2. Walden University
Walden University has created online courses to provide an engaging learning experience for working professionals for more than 45 years. They offer degrees in bachelor's, master's, doctoral, and certification programs for those wanting to pursue a career in education. Some of the programs available at Walden include:
Specialization in Special Education (K-Age 21)

BS in Child Development

MAT in Teaching

MS in Early Childhood Studies

MS in Education

MS in Higher Education

MS in Instructional Design and Technology

Doctor of Education (EdD)

Ph.D. in Education

Education Specialist (EdS)
---
3. University of Massachusetts Online
The University of Massachusetts (UMass) has provided online education since 1995 and has one of the largest public university online programs in the country. UMass currently offers 20 different degree and certificate programs for teaching. A few of these degrees include:
BA in Children's Learning and Development Concentrations

Educational Specialist Degree in Curriculum and Instruction: Education of Diverse Populations

Master of Education

Master's Degree in Educational Administration
---
4. Fort Hays State University
Fort Hays State University was founded in 1902 and desires to help students reach their teaching goals. All three of their degree programs are offered online and require approximately 126 credits while providing internships and student teaching experience. The degree programs at Fort Hays State University include:
Bachelor of Science in Early Childhood Unified
Bachelor of Science in Elementary Education (Para Pathway available)
Bachelor of Science in Secondary Education
---
5. Capella University
Capella University has designed programs that fit into busy schedules. They have offered innovative courses since 1993. Programs at Capella help teachers integrate instructional technology into their classrooms, deepen their expertise, create effective learning environments, and master current and effective practices to improve student achievement. Capella offers an extensive variety of master's degrees, doctoral degrees, and education certificates. A few programs available at Capella include:
MS in

Adult Education

MS in

Early Childhood Education

MS in

English Language Learning and Teaching

MS in

K-12 Studies in Education

MS in

Special Education Teaching

MS in

General Educational Technology

Grad Certificate in Education Leadership and Administration

Grad Certificate in College Teaching

Grad Certificate in Educational Leadership and Management

Grad Certificate in Research

Ph.D. in Postsecondary and Adult Education

Ph.D. in Nursing Education

Ph.D. in Curriculum and Instruction

Ph.D. in K-12 Studies in Educational

EdD in

Reading and Literacy – EdD

EdD in Teacher Leader in Digital Transformation

EdD in Leadership in Educational Administration

Eds in Teacher Leader in K-12 
---
6. Slippery Rock University
Slippery Rock University was founded in 1889 and is a member of Pennsylvania's State System of Higher Education. SRU strives to provide students with curricula and experiences that are part of the world the graduates will live and work in. A few of the programs offered include:
Early Childhood Education
Early Childhood Education: International Education
Chemistry: Pre-Masters of Education
Biology: Pre-Masters of Education
Art BFA: Pre-Masters of Education
---
7. Saint Mary-of-the-Woods College
Saint Mary-of-the-Woods College is the oldest Catholic college in Indiana. SMWC seeks to constantly evaluate and evolve to meet the needs of the students and has recently been expanding its campus and programs. It seeks to inspire students to make a difference in their lives and the world. A few programs offered at SMWC include:
P-3/MI
K-6/MI
Early Childhood/Mild Intervention
Education Generalist
---
8. University of Wisconsin – Superior
For 120 years, the University of Wisconsin-Superior has provided students with comprehensive studies in education, arts, humanities, sciences, social sciences, business, and pre-professional programs. In 1926, the university changed its name from Superior Normal School to Superior State Teachers College. A few of the programs offered at UW-Superior include:
Bachelors of Science Secondary Education
Bachelors of Science Elementary Education
Early Childhood Education
Guidance and Counselor Education
English Education
Mathematics Education
Natural Sciences Education
Special Education
---
9. Eastern Oregon University
Eastern Oregon University was founded in 1926. The school prides itself on its small classes, clubs, organizations, and its flexible delivery of online courses.  The university is accredited by NWCCU, IACBE, and TSCP. The following programs are specific to licensure, non-licensure, graduate, and undergraduate specifications:
Early Childhood Education – non-licensure undergraduate program
Elementary Education – licensure undergraduate program
Master of Arts in Teaching
Master of Science in Education – non-licensure graduate program
Special Education – graduate-level endorsement
---
10. Bellevue University
Fully accredited and non-profit, Bellevue University was established in 1966 and is now recognized as a national leader in helping students achieve success. They believe their students are full of "untapped potential," no matter where they made their start. A few programs at Bellevue include:
Bachelor of Science in Adult Education
Master of Science in Instructional Design and Technology
Bachelor of Science in Public Health Education
---
11. Mississippi State University
Mississippi State University is an all-comprehensive university that offers a wide range of opportunities and challenges. Mississippi State holds the Carnegie Foundation for the Advancement of Teaching's designation and is accredited by the Southern Association of Colleges and Schools Commission on Colleges. A few programs at Mississippi State include:
Bachelor of Science in Elementary Education
Master of Arts in Teaching
Bachelor of Science in Teaching Education
Educational Specialist Degree
---
12. Park University
With over 40 degrees available, Park University is accredited by the Higher Learning Commission of Colleges and Schools. The University believes deeply in accountability, civility, respect, excellence, global citizenship, inclusivity, and integrity. A few programs offered by Park University include:
Bachelor of Science in Early Childhood Education
Bachelor of Science in Elementary Education
Bachelor of Science in Middle School Education
Bachelor of Science in Secondary Education
Bachelor of Science Education Studies
---
13. Valley City State University
Valley City State University was founded in 1860 and is recognized as the #1 public regional college in the Midwest. The 55-acre campus is listed on the National Register of Historic Places. A few programs offered at Valley City State include:
Bachelor of Science in Elementary Education
Bachelor of Science in Music Education
Bachelor of Science in History Education
Career and Technical Education
---
14. Northern Arizona University
Northern Arizona University was founded in 1899 and is built on a student-first foundation. Students can receive online education for over 150 degrees from this school that emphasizes student success. A few programs at the university include:
Bachelor of Applied Science Early Childhood Education
Bachelor of Science Elementary Education
Master of Education Secondary Education
---
15. Navarro College
Navarro College was founded in 1946 and has some of the best online programs for education and teaching degrees. This college wishes to be recognized as a higher education institution and is committed to innovative, student-learning opportunities. Its major educational degrees include:
Education – 8-12 (AAT)
Education – EC -6, 4-8, EC-12 (AAT)
---
16. Truckee Meadows Community College
Truckee Meadows Community College is part of the Nevada System of Higher Education. Truckee Meadows strives for student success and academic excellence and believes they can create the future by changing lives now. Some of its programs include:
Early Childhood Education – preschool emphasis
Early Childhood Education – infant/toddler emphasis
Early Childhood Educator 1-4 skill certificates
---
17. University of West Florida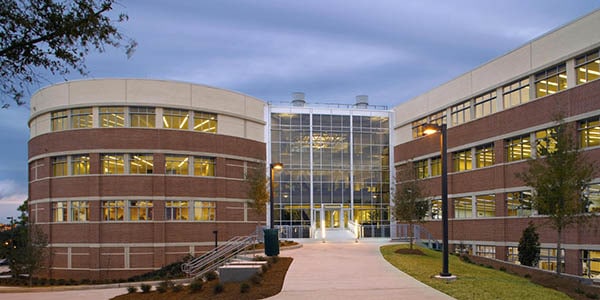 Established in 1963, the University of West Florida believes in "doing things for the right reasons." Its programs are accredited nationally by fourteen different agencies. Approximately 30% of its students are enrolled online. A few of its education programs include:
Elementary Education, B.A.
Exceptional Student Education, B.A.
Informal Education and Learning, B.A.
Curriculum and instruction, M.ed.
Educational Leadership, M.ed.
Reading Education, M.ed.
---
18. Colorado State University-Global Campus
Colorado State University-Global Campus participates as a member in the State Authorization Reciprocity Agreement. With 100% accredited online degrees, CSU-Global focuses, especially on online learning. Of their many online programs, a few include:
Master of Science in Teaching and Learning
K-12 Education Technology and Instructional Design
Contemporary Practices in k-12 Online Learning
---
19. Southwest Assemblies of God University (SAGU)
Southwest Assemblies of God University (SAGU) was established in 1943 and is actually a meld of three different schools. SAGU offers over 70 degrees on campus and online and is accredited by the Southern Association of Colleges and Schools Commission on Colleges. A few of the programs offered include:
Early Childhood Education, A.A.
Education, A.A.
Elementary Education
English Language Arts & Reading (Middle & Secondary)
Social Studies/History Education (Middle & Secondary)
---
Other well-known online teaching programs include:
Western Governors University

Xavier University

Liberty University Online

The University of Nebraska at Kearney

Concordia University

Drexel University Online

Rasmussen College

Arizona State University

Northcentral University
If you're looking to further your career path in education, pursuing a higher education for yourself is the way to go. Whether you choose to start at a community college, are looking into online programs to get a four-year degree, or want to pursue a master's degree in education, please visit our homepage at www.bestvalueschools.org or refer back to this article for help in making the right choice for you. No matter what degree-type you choose to begin with, no matter if your path is that of an educator or if you end up in educational leadership, the pursuit of a higher education is always the right choice. Good luck!